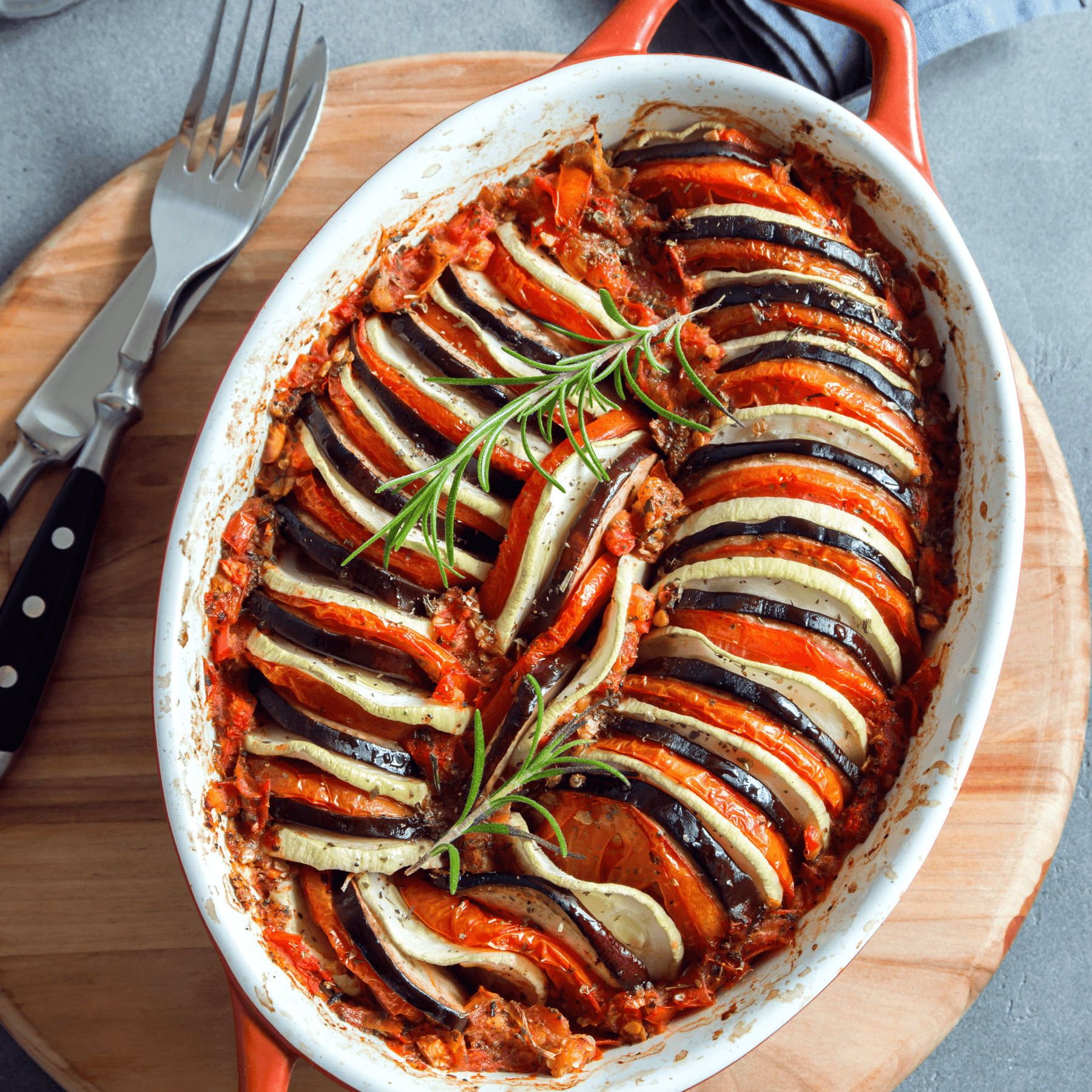 Wildatarian Ratatouille
French Ratatouille is totally Wildatarian! If you are a low-sulfur Wild-Type, this recipe is for you. Made with low-sulfur veggies like eggplant, squash and zucchini, this hearty, homestyle meal makes a perfect springtime entree that will transport you to Provence. 
Why It's Wild:
Aromatic tomatoes contain heart-healthy lycopene, while the rich herbs in this recipe are antimicrobial, helping to maintain a healthy gut flora - a perfect combination for longevity!
Pro tip: if you're not a whiz with a kitchen knife, try using the "medallion" setting on a veggie spiralizer for clean, uniform veggie slices. 
Ingredients:
2 eggplants
6 organic roma tomatoes
2 yellow squashes
2 zucchinis
Rosemary sprigs, for garnish 
Ratatouille Sauce
2 tablespoons olive oil
1 red bell pepper, diced
1 yellow bell pepper, diced
28 oz can of crushed tomatoes
2 tablespoons chopped fresh basil, about 10 leaves
½ cup thyme and parsley, chopped
Salt and pepper, to taste
To Make:
Preheat the oven to 375 degrees F.
Slice the eggplant, tomatoes, squash, and zucchini into approx. 1/8-inch rounds, then set aside.
Make the sauce: Heat the olive oil in a 12-inch (30-cm) pan or dutch oven. Sauté the bell peppers until soft, about 10 minutes. Season with salt and pepper, then stir in crushed tomatoes. Stir until the ingredients are fully incorporated. Remove from heat, then add the basil, thyme and parsley. Stir once more, then smooth the surface of the sauce with a spatula.
Arrange the sliced veggies in alternating patterns, (for example, eggplant, tomato, squash, zucchini) on top of the sauce from the outer edge to the middle of the pan. Season with salt and pepper.
Cover the pan with foil and bake for 40 minutes. Uncover, then bake for another 20 minutes, until the vegetables are soft. Garnish with rosemary and serve while hot. 
Enjoy! 
To The Tru Of You,